Easy Ukranian Blender Borscht
As a kid who grew up in Ukraine, I ate borscht almost every single day. Borscht is a staple in Eastern European homes, and is as common as hamburgers and fries are to Americans.
My grandmother Rima, who was always cooking up a storm in the kitchen, had three different borscht recipes which she would alternate. In the winter, she would cook up a huge pot of beef and cabbage borscht, a hearty, stewy soup that was served hot with loads of sour cream, and black Ukranian bread rubbed with raw garlic and salt. And in the summer, she made cold borscht, which was served chilled like gaspacho, made out of either beets or spinach. it was always a treat on a hot, summer day.
In full disclosure, by the time I was a teenager living in the U.S., I had eaten my fill of borscht. I dreamt of pizza, hamburgers, and spaghetti like my friends were eating, but just about every night when I'd sit down at the dinner table, it was a bowl of borscht that was staring back at me.
There was a time when I thought that I'd never want to see it again when I left my parents' house. I was wrong.
After I left home, I spent years looking for my grandmother's borscht. I longed for her and her cooking and that taste of home that her borscht represented. When I moved to New York City, I taste-tested every bowl of borscht in the village in hopes that I would find something that tasted like my grandmother's. I had no luck. Not only does borscht taste substantially different region-to-region, but every family has its own take on this recipe.
It wasn't until I started cooking after my daughter was born that I finally took matters into my own hands and following my grandmother's recipes, made her version, one that is truly the best tasting borscht that anyone has ever tasted (and yes, this has been confirmed by everyone who has ever tasted this amazing soup).
Today, I make her three varieties fairly often, and I make my family beg for it (and beg for it they do!) rather than serve it to them daily. I also came up with a few variations of my own.
When I finally broke down and bought my Vitamix A3500 Ascent Series (yes, it took me two years of coveting and contemplation to decide to invest in this magical machine, which I have been using almost daily since taking it out of the box), I came up with this yummy recipe. It's super quick and easy, nutrient-dense, and has some wonderful health benefits, too!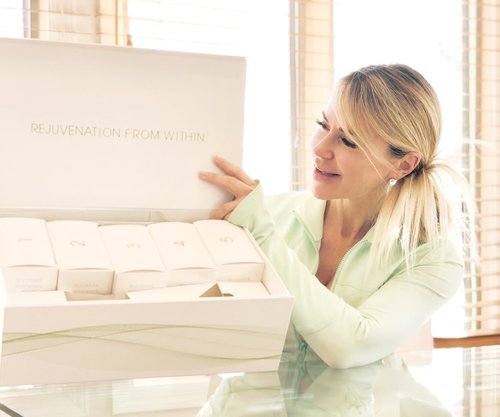 This is the ONLY "quick-results" weight-loss program I'd recommend, because it actually benefits your health.
The ProLon Fasting Mimicking Diet (FMD) was developed by one of the world's leading anti-aging scientists. It's a meal program so powerful that it holds the FIRST U.S. patent for the reversal of aging!
Whether you want to lose a few pounds, lower blood pressure or cholesterol, improve sleep and mental clarity, reduce inflammation, or just need a reset, this is a quick, fool-proof 5-day means to that end.
To find out more about this revolutionary, science-backed program, click the button below to go to the ProLon website and read "Diary of a Girl Who Ate While Fasting" about my own ProLon experience and get a discount code.
RECIPE
RUSSIAN BLENDER BORSCHT
Serves 3-4 (See visual recipe below)
Ingredients
4 medium beets, peeled and quartered

2 large carrots, peeled and halved

1 avocado, ripe

1/2 small red onion

1/2 lemon, juiced

2 cloves of garlic (more if you like it spicy)

4 sprigs of dill, minced

1/2 cucumber, peeled and finely diced

1 egg, hard-boiled, peeled and finely diced (omit if vegan)

Grass-fed sour cream or plain yogurt (omit for Palo or Whole30
Directions
Peel the carrots and beets and chop them into halves and quarters, respectively (or into smaller pieces if you want them to cook faster).

Put the carrots in a bamboo steamer and set aside.

Add the beets to a pot of water, cover, and turn the heat on high. When the water reaches a rolling boil, replace the pot cover with the bamboo steamer with the carrots.

After about 10-15 minutes, use a fork to check the carrots. When you can easily pierce them with a fork, remove the bamboo steamer from the top of the pot, and set aside. Cover the pot with its lid and lower the flame to medium.

In another 20-30 minutes, check the beets in the same way. When they are tender enough to be easily pierced with the fork, take them out of the pot, but reserve some of the liquid in which they were boiled.

In your Vitamix, add 2 cups of the reserved liquid from the pot, then the beets and carrots, avocado, red onion, garlic, dill, and lemon juice. Blend until everything is completely liquefied.

Pour into bowls and enjoy immediately while it's warm. Alternatively, you can chill it in the refrigerator for a couple of hours and eat it chilled, like gaspacho. This is a special treat on a hot summer day.

Before serving, sprinkle each bowl with diced cucumber and egg (omit egg if vegan), and garnish with a couple of avocado slices.

Spoon out a dollop of grass-fed sour cream or yogurt on top (omit for Paleo or Whole 30) and sprinkle with minced dill.

Serve and enjoy.
Check out my favorite Vitamix models here. I personally own the Vitamix A3500 Ascent Series and I wouldn't trade it for anything!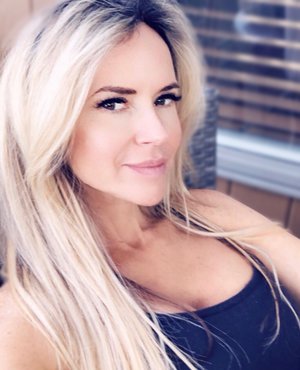 Victoria Gregory is an Integrative Nutritionist and founder of NEWTRITION NEWYOU. Her focus—whether with private clients, readers of her blog, or her followers on social media— is whole body wellness, incorporating whole-food nutrition, supplementation, exercise, toxin-free living, and mindset coaching. Victoria's personal mission is to help make the world a healthier place, one person at a time, and she has helped thousands of people find joy and self-love through better eating habits and mindfulness. Learn more about Victoria.